Christmas at Mallow Credit Union
'Tis The Season at Mallow Credit Union
No matter how you celebrate the festive season, be it something low key or whether you go in for all the trimmings, chat to us today about a flexible Christmas loan from a lender who cares.
How much does a Christmas Loan cost?
All our Christmas loans are available at the personal rate of 9.5% (9.92% APR).
For a €2,000 one year variable rate loan with an interest rate of 9.5%, an annual percentage rate of 9.92% APR, the weekly repayment will be €40.44 and the total amount repayable will be €2,102.75. (representative example only, correct on the 20th Nov 2019.)
How do I apply for a Christmas Loan?
If you are already a member, simply call into your nearest branch or apply online through your CUOnline+ account.
Or, to submit a personal loan enquiry, please visit our Loan Calculator.
---
Not a Member? Not a Problem!
If you're not already a credit union member, why not join us today? You'll find more details on what you need to join by clicking here.
Or if you can't remember the last time you used your credit union account, that's also no problem. We love to see old friends returning. Just contact us to find out how to reactivate your account.
---
Christmas Opening Hours: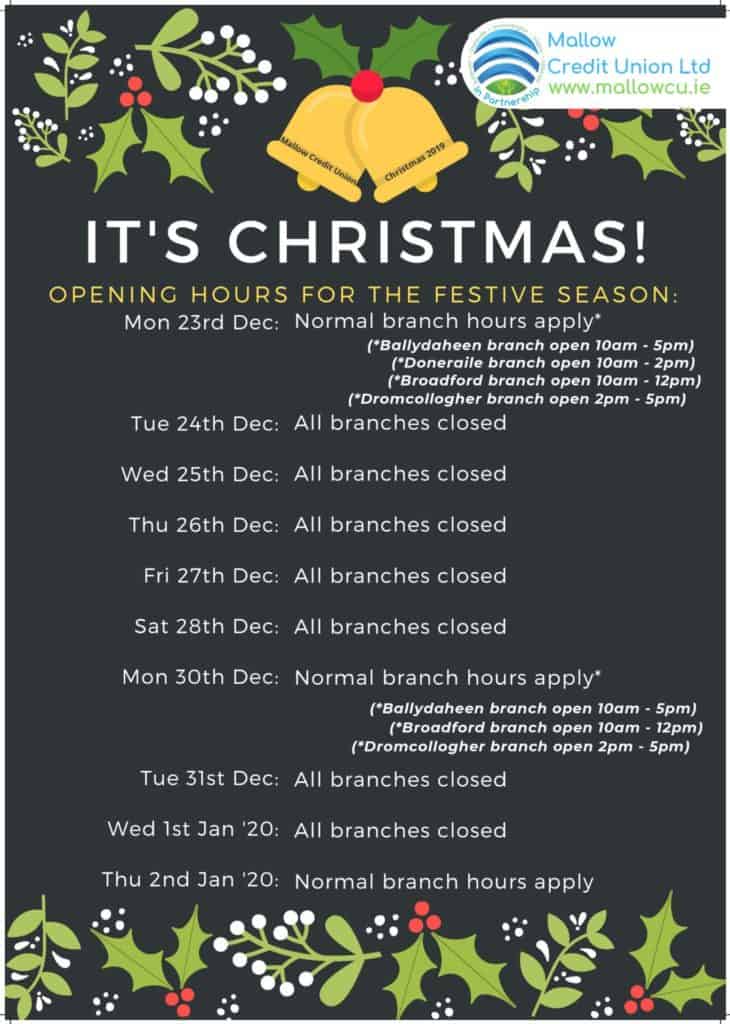 Loans are subject to approval. Terms and conditions apply. If you do not meet the repayments on your loan, your account will go into arrears. This may affect your credit rating which may limit your ability to access credit in the future. Credit unions in the Republic of Ireland are regulated by the Central Bank of Ireland. Credit unions in Northern Ireland are authorised by the Prudential Regulation Authority, and regulated by the Financial Conduct Authority and the Prudential Regulation Authority.
---