International Credit Union Day 2020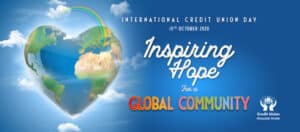 International Credit Union (ICU) Day® is celebrated each year on the third Thursday in October. The event, while a global one, offers excellent opportunities to promote credit unions at local level, while also informing the community about the real and beneficial impact credit unions have on people's lives the world over.
International Credit Union day has chosen the theme 'Inspiring Hope For a Global Community' to mark this year's celebration. It speaks to how credit unions around the globe have continued to provide a high level of service to their members and demonstrated a generosity to their local communities during the COVID-19 crisis that has set them apart from other financial institutions. We are truly inspiring hope for a global credit union community.
At Mallow Credit Union we will be celebrating virtually for the week, with giveaways planned across our social media channels. We have bought a host of vouchers from local businesses and will be giving them away through Facebook and Instagram. It's all about #Supportinglocal!
#Support Local Giveaway T&Cs: 
Members and non-members can enter the giveaways
Entry to the giveaways consists of:
– Liking Mallow Credit Union's facebook or instagram page
– Liking the page of the business the voucher is from
– Tagging of a friend in the comments
Giveaway participants can enter all giveaways across the week
Participants can only win once (any subsequent entries will be omitted)
Mallow Credit Union has bought and paid for these vouchers to #supportlocal
Winners will be chosen at random
Winners can be chosen from the Instagram or Facebook posts
No cash alternative will be provided by us or the business
Where possible we would like the winner to collect their prize in branch and stand in for a socially distanced photo
Participants can tag and enter more than once
Mallow Credit Union will not request any sensitive data from you and participants are advised to exercise caution online – if in doubt call the CU
Best of luck and thanks for supporting Mallow CU and local businesses!
---