NEW Debit Card & NEW PIN Number
29 March, 2023
We've recently emailed all our debit card holders to let them know that we are changing our Debit Card issuer and will be replacing the "MYCU Debit Card" issued by UAB Payrnet with a new "Current Account Debit Card" issued by Transact Payments Malta Limited.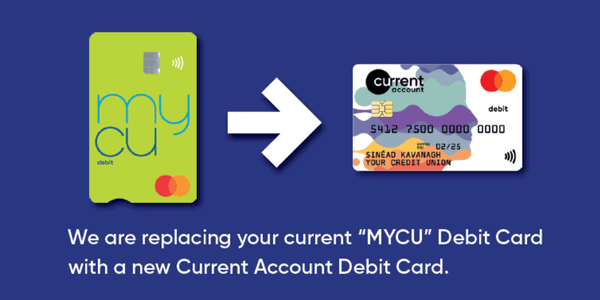 You can activate and start using your new card once you receive it in the post. Your existing "MYCU Debit Card" will stop working from Tuesday 11th April 2023.
There will be no change to how your Key Account works, no changes to your account number, IBAN details and no impact to any existing Standing Orders and Direct Debits you may have set up on your current account with us. Please be assured that we have taken and will continue to take steps to make sure the transition will be completed with minimum disruption to your Debit Card.
Action steps you need to take once you receive your card:
Sign the back of the card.
 Send a text to the number provided in the letter accompanying  your new Debit Card to retrieve your new PIN.   Please note your existing PIN will NOT work with your new Card.  Once the New card is activated with the NEW PIN you can change your PIN number at any ATM .
Commence using your new Debit Card and cut up your old MYCU Debit Card.
If you use Apple Pay, Google Pay or Fitbit Pay you will need to set these up with your NEW card Details. Your old card will stop working with Apple Pay, Google Pay or Fitbit Pay from Monday 10th April 2023.
If you have recurring card payments set up using your existing MYCU debit card these will stop from midnight on Monday 10th April 2023 (A recurring card payment is a regular payment taken from your account using your card details, instead of your account number and sort code. They're often used for subscription services like Netflix or Amazon Prime, gym memberships).  These payments will need to be re-established using your New Debit Card on the Tuesday 11th April.
Please note, although there have been no material changes, we have included the latest versions of the Key Account Terms and Conditions and Schedule of Fees and Charges should you wish to review.
If you have any queries on this please ask in your local branch or you can contact us here.
Credit Unions claim top spot in the Ireland RepTrak® Study 2023 »