Time for a new kitchen?
If a new kitchen has been on your list for a while but you're unsure as to how much it will set you back, creditunion.ie have done some digging to give you an idea of figures.
Kitchen design specialists, Cavanagh Brother's Kitchens, say a new kitchen can cost anywhere between €2,950 – €18,000+. Unsurprisingly, there's a big range in price when it comes to renovating the most important room in the house; and it all depends on what you opt for: Quartz or laminate countertops, eight cabinets or sixteen… and the ultimate question of all – to island or not to island?
On My Builder.com, the average price for a new kitchen is quoted at around €7,000. This price usually includes the cost of the individual pieces (cabinets/worktops etc.) and the fit cost. This is known as a dry fit, and does not include wiring, plumbing or any additional work – which will increase the overall figure.
To give you a better idea of the individual costs for different parts of your kitchen, creditunion.ie looked to various specialists and websites to see what they had to offer.
This blog is part of creditunion.ie's  House2Home series,  sharing expert advice, resources and style ideas on renovating or redecorating your home.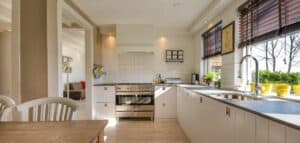 1. Units/Cabinets
€4,500
Obviously, a big kitchen with many units will be more expensive than a small one. If you hire a professional joiner to make your cabinets instead of ordering them off the shelf, an average size kitchen could cost you €4,500.
The more kitchen units you want; the more expensive it's going to be – we've found the cost of units on kitchen design site, Magnet:
– Smaller kitchens tend to have 8 cabinets, usually running along one wall, costing €2,704
– Mid-sizes spaces typically have 12 cabinets, running across two or more walls, costing €3,561
– Larger kitchens often utilise 16 cabinets, costing €4,450
Costs above do not include installation, and prices vary depending on materials and time taken.
2. Kitchen Installation Cost
€1,000 – €2,000
On their website, Magnet quoted a fee of €1,154 for installation of an entire kitchen – but that not include a bespoke kitchen build, along with wiring, plumbing etc.
If you're getting bespoke elements like marble laid down, (which can take up to a week, as it's very time-consuming) the installation for this could set you back an additional €700-€1,000.
3. Lighting
€2,000
If you have to rewire your entire kitchen, that really does come at a cost. We found the average cost cost of basic fit, install and LED strips at €2,000.
4. Kitchen Worktop Prices
€300 – €10,000
Depending on the kitchen style, the cost of the kitchen will vary. Solid wood doors will be more expensive than doors made from MDF.
– Granite worktops: We found granite at a price of €2,371 for an average size kitchen
– Solid Wood Worktop Prices: The cost of solid wood worktops for an average size kitchen was €801
– Laminate Worktop Price: Coming in at the cheapest; laminate worktops start from €294 for an average size kitchen.
– Quartz Worktop Prices: You can expect €68 per sq ft of quartz, with some places quoting €600 per sq m – but whether they're quoting in metre or foot, one thing is for sure – it's expensive. These counter tops are top notch quality but could set you back €10,000-€12,000 for an average size kitchen.
 Costs above are of materials only; and do not include installation fee.
5. Price of Kitchen Floor
€400 – €3,000
– Solid Oak/Ash: We found this the most expensive type of wood; coming in at €49 per m2. For an average size kitchen of 17 sq metres, this would cost a total of €833.
– Luxury Vinyl Tiles: These are hardwearing and waterproof, and can mimic many materials including charcoal or oak herringbone. They cost much less than solid wood – with herringbone oak vinyl coming in at a toal of €495 for an average size 17 sq metre kitchen.
Marble: One of the most expensive materials out there, some marble tiles, like those on tile merchant.ie, cost €169 per m sq. That's €2,873 for an average sixed 17 sq metre kitchen.
All prices quoted above are excluding install costs – which can be quite high depending on time taken, especially for marble.
6. Kitchen Appliances
€400 – €3,000 each
New appliances will also whack on some costs – but vary depending on the model you go for. Prices below are average, per large appliance. (Cooker, dishwasher).
Electrolux – €839
Samsung – €2,614
AEG – €1,113
Zanussi – €517
Beko – €395
7. Kitchen Island Cost
€1,000 – €8,000
The various features in the kitchen island, like drawers, wine rack, glass doors, or whether you need plumbing, wiring etc. will affect the price – so they really do range between €1,000-€8,000. Although some places say you could do it yourself from €200-€500.
Remember, we have just introduced our new €100K home improvement loan, so whether you need to borrow a little or a lot, you can do more with Mallow CU.
Contact our dedicated loans team today- we're here to help. 
---